Complex requirements solved innovatively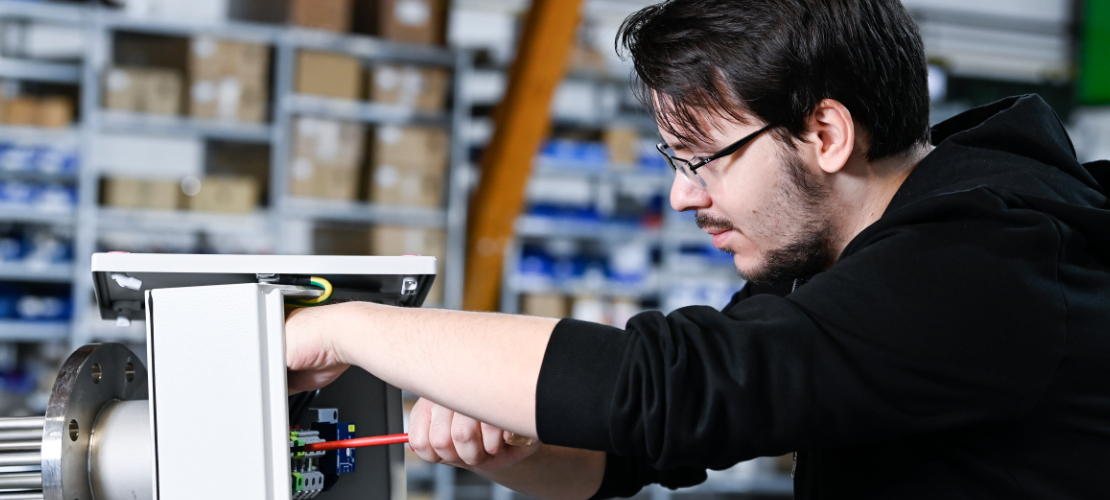 Complex requirements solved innovatively
ICE / Automation – Electric heater control systems
What does ICE / automation mean
Basically, electric resistance heaters are very "sluggish" end consumers, especially in comparison with alternative heating solutions. Classic thermostats ("2-point controllers" or "on/off controllers") only switch off power when a particular setpoint is exceeded and switch power on when it falls below this setpoint. This leads to large temperature fluctuations around the target setpoint, especially in tankless water heaters, because the system "overshoots" or "undershoots".
PID controllers and their optimization function form the core of Siekerkotte SSTR and STR control systems. The controller compensates for the heaters' inertia, as well as for other possible interfering factors, switches the heater on or off at optimum times, and thus ensures precise temperature control of the medium.
Benefits of ICE / automation
Heating is switched on or off via a solid state relay or thyristor controller in the voltage zero point. This has the following benefits:
no wear caused by tear sparks and associated short service life
increased control accuracy, as there is no limit to the frequency of switching operations
meets all requirements of EMC directives
In addition to the semiconductor, heating is redundantly disconnected from the mains via an additional safety contactor, thus ensuring safe shutdown. Digital central modules are required for the acquisition and storage of process data as well as error messages, switching cycles, etc. The SSTR control system therefore relies as standard on an electronic microprocessor, which acquires the desired data and makes them available digitally.
It is compatible with all common bus connections (Profinet, Profibus, Modbus RTU / TCP-IP), and is thus future-proof. All plants are based on a CAD design with Eplan P8.2.4 and PLC programming, such as Siemens Step 7.
Control cabinets are available for wall mounting or as stand-alone units up to an IP66 protection class. Together with our Siekerkotte instrumentation and control engineering solutions, we supply you with the circuit diagram, assembly diagram and terminal diagram, as well as comprehensive documentation.
Let's talk about it!
No electric heating solution is exactly like the other! Let us advise you on what your optimal heating solution looks like.
Write an email