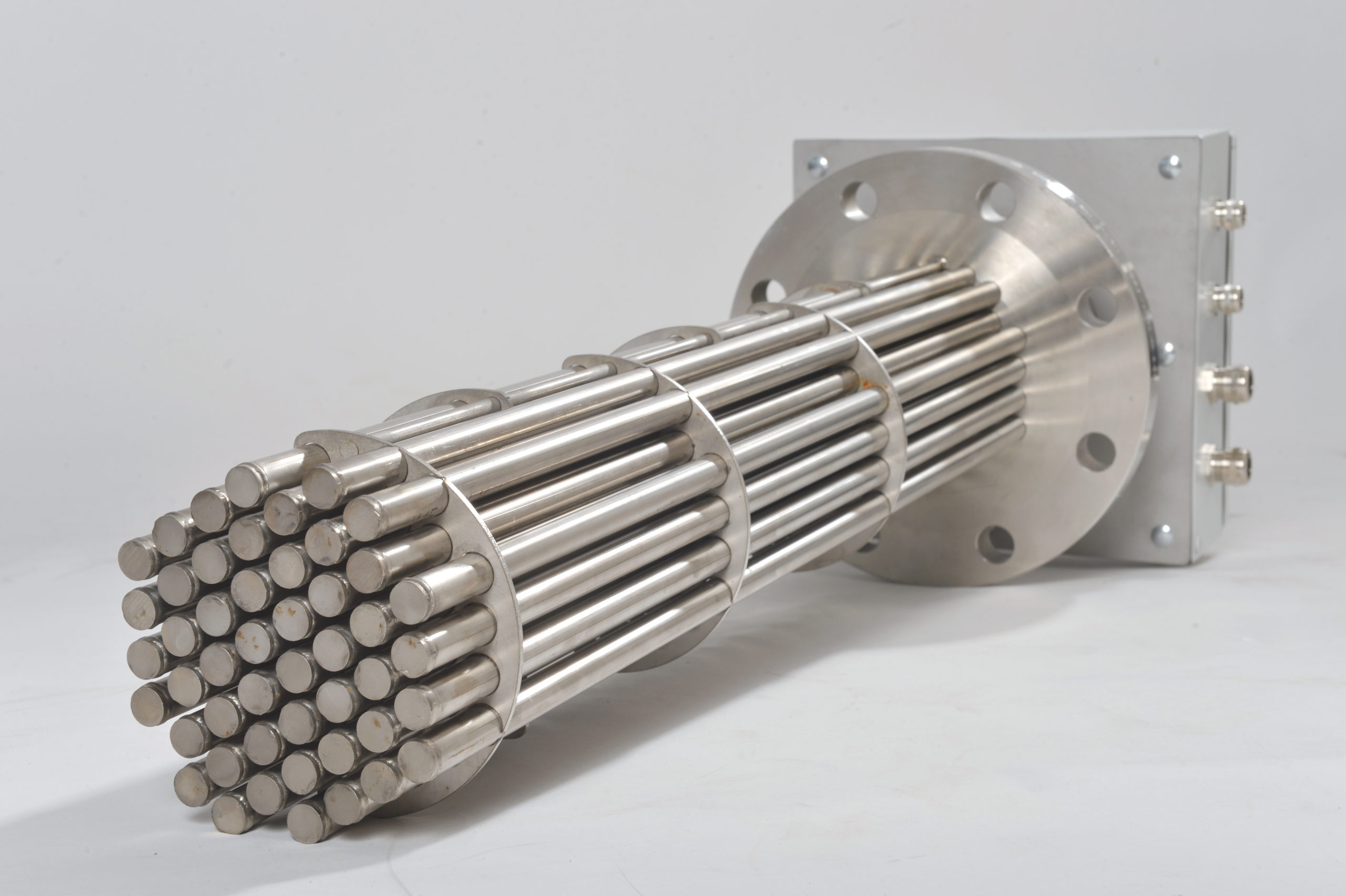 Cartridge heater SPHK
Cartridge heaters are used as electric heaters wherever direct heating with tubular heaters is not possible, or to leverage the benefits of interchangeable electric heating elements without having to empty the tank beforehand. In essence, cartridge heaters are heat exchangers whose heat source is electrical resistance in the form of tubular heaters, ceramic element heaters, or high-density heating cartridges that heat a cartridge tube, which then transfers the heat to the medium.
Also available as a variant with replaceable heating elements without tank draining
A low surface load guarantees longer service life
For high system pressure up to 100bar/g
As low dead space version with a low roughness depth of up to 0.4µm for sterile applications
Application areas for cartridge heaters
Lubricating oil, hydraulic oil, heat transfer oil, canola oil, palm oil, heavy oil, bitumen, etc.
Drinking water, circulating water, deionized water, demineralized water, WFI, pharmaceutical water, etc.
Air, nitrogen, flue gas, etc.
Structure and material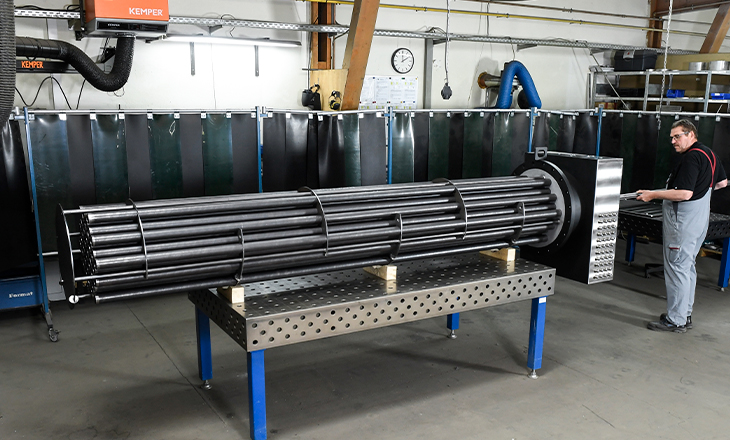 The electrical resistance in the cartridge heaters SPHK are ceramic heating elements, tubular heaters or high-density heating cartridges. Cartridges can be welded without gaps at the blanking flange on the medium side to allow applications without or with few dead spaces. Gapless spacers stabilize the cartridges. The surface of the SPHK is machined for a maximum roughness depth of 0.4µm.

SPHK are particularly suitable for use with high system pressures and with water that contains slight amounts of chlorine and lime. We offer a wide variety of flanges (DIN, tri-clamp, ASME, special flanges) made of several CrNi steels (1.4301, 1.4541, 1.4404, etc.) up to DN1200 and, in the case of non-dead space applications, screw heads (3/4 '' - 2½ '') for the connection of heaters. Our modular manufacturing concept offers maximum flexibility to meet customers specific requirements.

Available in option with a pressure vessel as tankless water heater. SPHKs are controlled and monitored by mechanical or electrical regulators and limiters that prevent thermal destruction of the heating ceramics. Also available as a complete system with complete control technology.
Technical data
Cartridges
Heat source
Tubular heaters, ceramic heaters
Diameter
16 mm; 20 mm; 25 mm; 40 mm; 52 mm or by agreement
Immersion depth (ID)
150 mm - 2000 mm
Unheated length
By agreement
Screw head
Diameter
1½″-SW60; 2″-SW70; 2½″-SW85
Flange
Design
DIN; tri-clamp; ASME; special flange
Material
Steel (pressure vessel plate H II); 1.4301; 1.4404; 1.4541; 1.4571
IP protection class
IP protection class
IP43 to IP66
Control / monitoring
Temperature controller
By agreement
Temperature limiter
By agreement
Temperature controller + limiter (1 pole)
By agreement
Temperature controller + limiter combination (3 poles)
By agreement
Options
Low dead space/dead space-free design
Incl. pressure vessel as tankless water heater
Let's talk about it!
No electric heating solution is exactly like the other! Let us advise you on what your optimal heating solution looks like.
Write an email