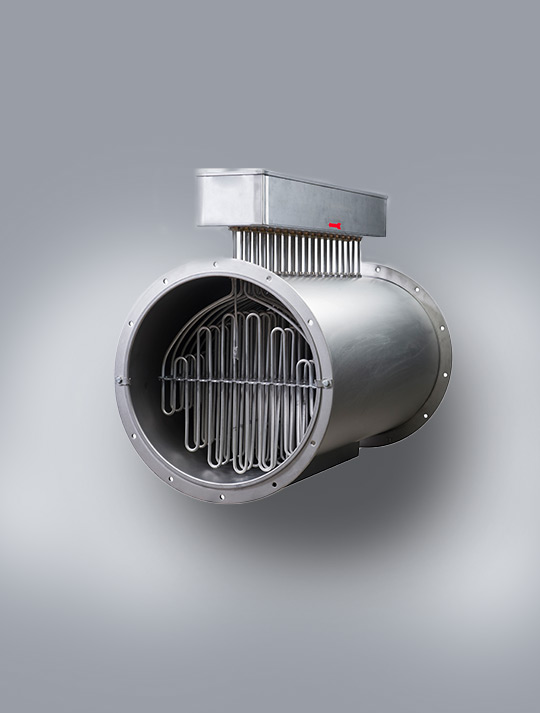 Air heater
SERL/SEKL
Industrial process technologies often require electric air heaters, such as in air conditioning and process engineering or industrial furnace and drying plant construction. In addition to reduced emissions, electric heaters are characterized by their high thermal efficiency and low maintenance requirements. Depending on the existing or desired system design, they are designed as SEKL rectangular duct air heaters, SERL tubular air heaters, SEFL flanged air heaters or, for increased system pressure, as classic SDE tankless water heaters.
High thermal efficiency and compact design
Wide range of connection designs (rectangular duct, tubular, continuous, flanged air heaters)
Flow-optimized design with low pressure losses
Ready-to-connect, mobile or skid solutions incl. fans, insulation, rollers etc. available on request.
Individual control (thyristor/contactor controls) and monitoring of processes
Application areas for air heaters
Industrial gases (nitrogen, carbon dioxide, flue gas, hydrogen, etc.)
Air conditionning technology, industrial furnace construction, drying technology
Exhaust air purification, catalytic afterburning
Structure and material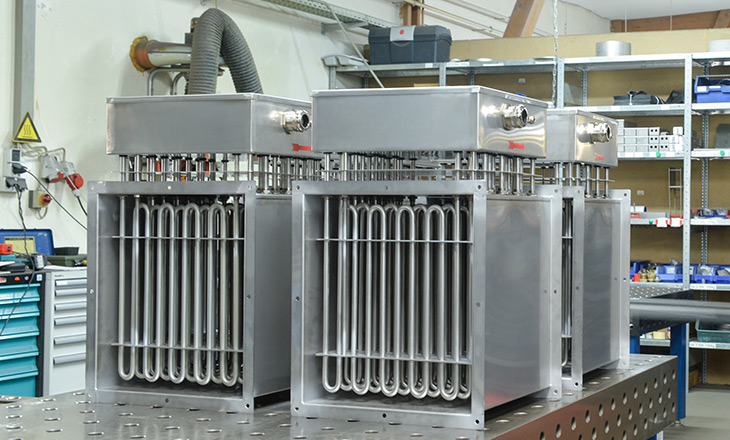 Process-specific engineering optimizes flow velocity and surface loading of tubular heaters while minimizing pressure drop. During operation, the temperature of heaters and medium is monitored to prevent overheating in the event of a stall. Various temperature limiters and controllers, measuring sensors such as wind vane relays, as well as thyristor and contactor controls are available for this purpose.

Housings are made of stainless steel with a degree of protection up to IP69. Tubular heaters with diameters of 8.5mm, 10.0mm, 11.5mm or 16.0mm are used as the heat source, the materials of which are selected according to the corrosiveness and temperature of the medium.

We offer constructions including fans, insulation, rollers, etc., for mobile setups or skid solutions upon request. We specify and manufacture our products according to international standards (DGRL 97/23/EG, AD2000, EN 13455, ASME), as well as acceptance by TÜV/ DNV etc. if required.
Technical data
Tubular heater
Diameter
8.5 mm; 11.5 mm; 16 mm
Material
1.4571; 1.4828; 1.4876; 2.4858
Immersion depth/pipe diameter/duct cross section
150 mm - 2500 mm
Unheated length
By agreement
Design variants
Dimensions
Duct air heater – DIN 24 158, page 3, line 3 
Tubular air heater – DIN or Jacob pipe; DN50..DN630 
Flange heater, flange
Material
1.4301; 1.4571; 1.4828
IP protection class
IP protection class
IP43 to IP66
Control / monitoring
Mechanical or electronic temperature controllers and/or limiters
By agreement
Thyristor or contactor controls
By agreement
Wind vane relay
By agreement
Options
Let's talk about it!
No electric heating solution is exactly like the other! Let us advise you on what your optimal heating solution looks like.
Write an email