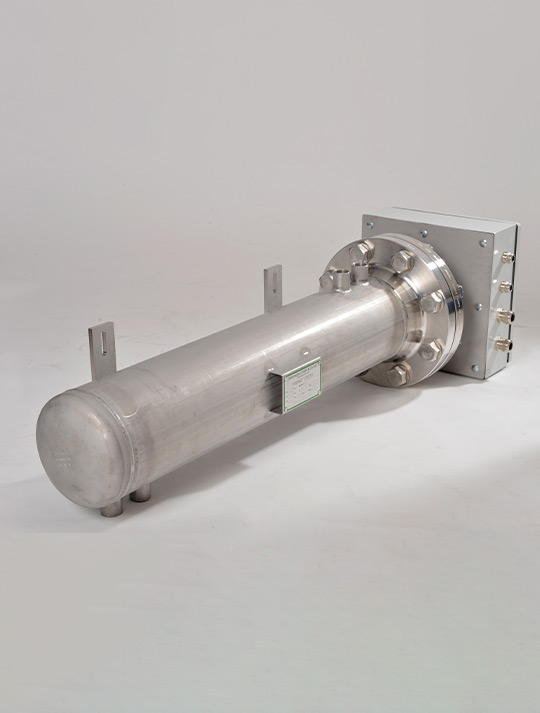 SDE tankless water heater
Industrial electric tankless water heaters are made of a screw-in or flanged heater and a matching flow tube. The design of these heaters is adapted to the process conditions ; decisive parameters being the medium to be heated, flow velocity, desired temperature increase and process pressure. On request, we supply tankless water heaters with a suitable control system, insulation, expansion tank, etc.
Flow-optimized design with low pressure losses
Also available as a multi-stage cascade solution for increased power requirements
Customized connection sleeves/flanges, ready-made skid solutions incl. pumps, valves, insulation, etc. available on request
Reference solutions for tankless water heaters up to 10MW available
Individual control (thyristor/contactor controls) and monitoring of processes
Application areas for tankless water heaters
Drinking water, circulating water, deionized water, demineralized water, WFI, pharmaceutical water, etc.
Lubricating oil, hydraulic oil, heat transfer oil, canola oil, palm oil, heavy oil, bitumen, etc.
Air, nitrogen, carbon dioxide, hydrogen, flue gas, etc.
Power2Heat / power-to-heat applications
Structure and material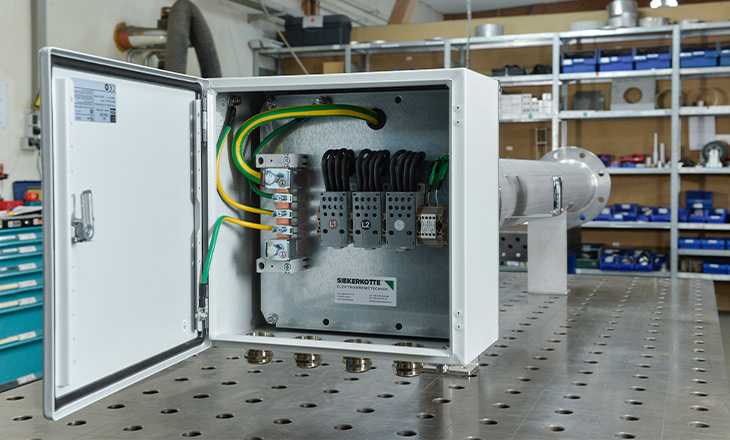 Industrial electric SDE tankless water heaters are made from high density tubular heaters that are welded/brazed into a blind flange or screw head and which heat the medium in a flow/pressure vessel. Dimensions, outflow and inflow as well as performance are constructed and designed according to customer requirements. Multi-stage cascades or skids can be realized and supplied for larger power requirements.

Process-optimized and modular systems allow the SDE to perfectly match the customer's heating requirements. Blind flanges and flow tubes can be supplied in different CrNi steels (1.4301, 1.4541, 1.4571, 2.4858), flanges up to DN1200 diameter are possible. Customers can select connection spigots/sleeves according to their requirements, and all elements meet protection classes up to IP69.
Reference solutions in the MW range for power-to-heat solutions are available.

In addition to the usual temperature controllers and limiters, Siekerkotte offers optional level monitoring of the medium to prevent heating elements from burning out.
These units are shipped fully assembled and electrically wired and can be installed on site if required.

Particular attention should be paid to regulating tankless water heaters. Depending on the application and any existing ICE concept, Siekerkotte offers individual thyristor and contactor control systems as well as complete automation solutions.
Technical data
Tubular heater
Diameter
6.5 mm; 8.5 mm; 10.0 mm; 11.5 mm; 16.0 mm
Material
1.4404; 1.4571; 1.4828; 1.4876; 2.4858
Immersion depth
150 mm - 3000 mm
Flange
Design
DIN; tri-clamp; ASME; special flange, sleeves/threaded nipples
Pressure level
By agreement
Material
Steel (pressure vessel plate H II); 1.4301; 1.4404; 1.4539; 1.4541; 1.4571;
Flow tube
Design
Single or cascade design
Material
Steel painted; 1.4301; 1.4541; 1.4571
IP protection class
IP protection class
IP43 to IP69
Control / monitoring
Temperature sensor
PT100; sheath thermocouples; capillary tube thermostats
Thyristor or contactor controls
By agreement
Flow monitor
By agreement
Options
Complete solutions incl. pumps, valves, expansion tanks, etc.
Let's talk about it!
No electric heating solution is exactly like the other! Let us advise you on what your optimal heating solution looks like.
Write an email