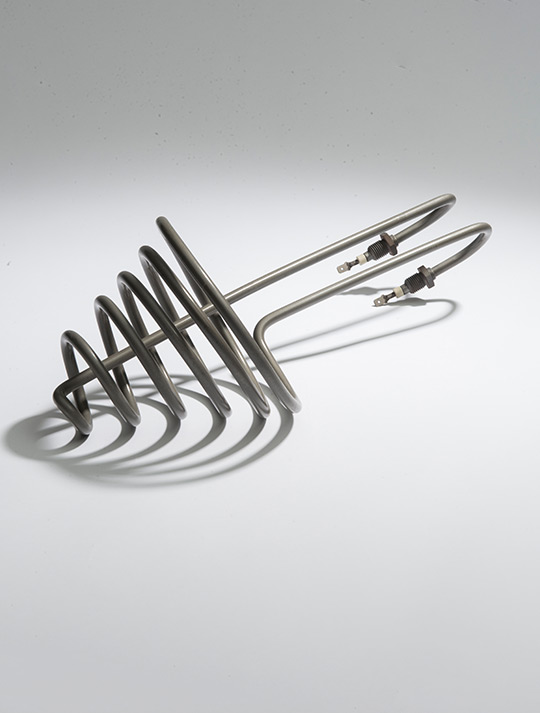 SRHK tubular heater
SRHK tubular heaters are electrical resistors that have been tried and tested for decades and convert electrical energy into heat with virtually no losses. The actual resistor consists of a heating coil surrounded by heavily compressed magnesium oxide (MgO) and centered in a VA tube. MgO is used to insulate the heating coil from the outer tube and has excellent thermal conductivity. Tubular heaters are bendable and thus easily adaptable to individual process conditions.
Wide range in terms of design and pipe material
Seal technology guarantees first-class insulation resistance > 1 Terra Ohm
High quality MgO for high electrical safety and excellent thermal conductivity
Production according to DIN 44.874 and VDE 0720
Application areas of tubular heaters
Industrial furnace construction
Mechanical and plant engineering
Structure and material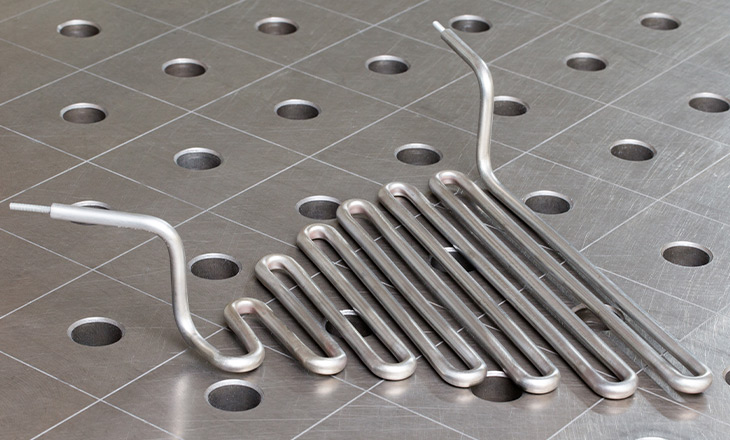 Tubular heaters are made of VA steel alloys (1.4404, 1.4571, 1.4828, 1.4876, 2.4858). The heating coil centered in the tube is embedded in highly compressed magnesium oxide powder. This component electrically insulates the heating wire from the outer tube and has high thermal conductivity. Diameters of 6.5, 8.5, 10.0, 11.5, 16.0 mm and stretched lengths ≤ 7000 mm are possible. Depending on the temperature level, the heater is sealed with silicone or a 2-component casting resin, which in this case guarantees a durably high insulation resistance of > 1 Tera Ohm.

Siekerkotte supplies the desired shape starting from batch sizes of 1: U-shape, W-shape in any number of sheets, meandering, double helix on one or more levels, double or multiple folded over and other special shapes on request. Various connection options are also available: By thread, plain pin, flat pin, stranded wire, etc.

The surface area of tubular heaters can be increased by applying a stainless steel coil to reduce surface stress. Finned tube heaters are available upon request. Production according to DIN 44.878 and VDE 0702 guarantees a constant quality.
Technical data
Tubular heater
Diameter
6.5 mm; 8.5 mm; 10.0 mm; 11.5 mm; 16 mm
Material
1.4404; 1.4571; 1.4828; 1.4876; 2.4858 (others on request)
Length stretched (Lg)
Total length of the tubular heater: max. 7m
Unheated length
By agreement
Inner diameter (D1)
Standard: 20mm for 8.5 RHK, 23.5mm for 11.5 RHK, 24mm for 16 RHK or by agreement
Center-to-center distance (M)
Center-to-center distance between connecting bolts. (D+D1)
Connection
By thread; plain pin; flat pin; stranded wire
Fastening nipple
Standard: M14 x 1.5 or by agreement
Let's talk about it!
No electric heating solution is exactly like the other! Let us advise you on what your optimal heating solution looks like.
Write an email